The US Consulate in Montreal Canada continues to clear case backlogs due to COVID shutdowns. According to the latest update on their website, they are now processing all types of cases with the exception of nonimmigrant visas which are emergency only. We provide an update on Immigrant Visa (IV) processing in Montreal Canada here.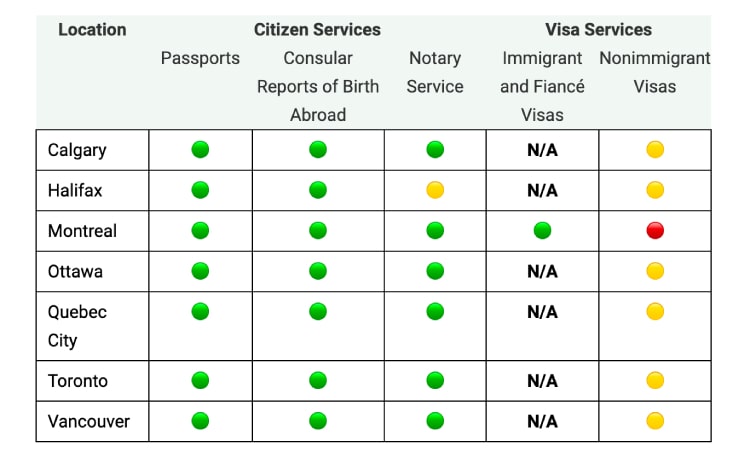 What is the current status of immigrant visa processing in Montreal Canada?
The US Consulate in Montreal Canada is actively processing immigrant visa cases for all categories. This includes parents, spouses, siblings, children, finances, and employment sponsorship.
What are the current processing times for immigrant visas in Montreal Canada?
Immigrant visa interviews are assigned according to capacity limits. These are assigned on a first-in-first-out basis based on the NVC documentarily completion date. Processing times and backlogs have been greatly impacted by COVID. The consulate continues to clear our backlogs as quickly as possible. The expectation is to schedule interviews 30-60 days from a case being documentarily completed by the NVC.
How do I check current NVC and Montreal Consular processing times?
You can find the most up-to-date processing times for both the NVC and Montreal Consulate below:
How do I check National Visa Center (NVC) processing times?
What if my case is outside normal processing times?
If your case is outside normal processing times, there are actions that you can take to help move your case along. The following are some options that might be available:
How do I get congressional help for my immigration case?
Mandamus Actions for Immigration Processing Delays
We Can Help!
The immigration lawyers at Richards and Jurusik Immigration Law have more than 20 years of experience helping people to live and work in the United States. Contact us today for an assessment of your legal situation.