If you will be obtaining a nonimmigrant visa at a US Consulate or Embassy, you should plan as far in advance as possible. Visa wait times vary depending on your location and can be from days to months. Here's how to check on current nonimmigrant visa appointment wait times.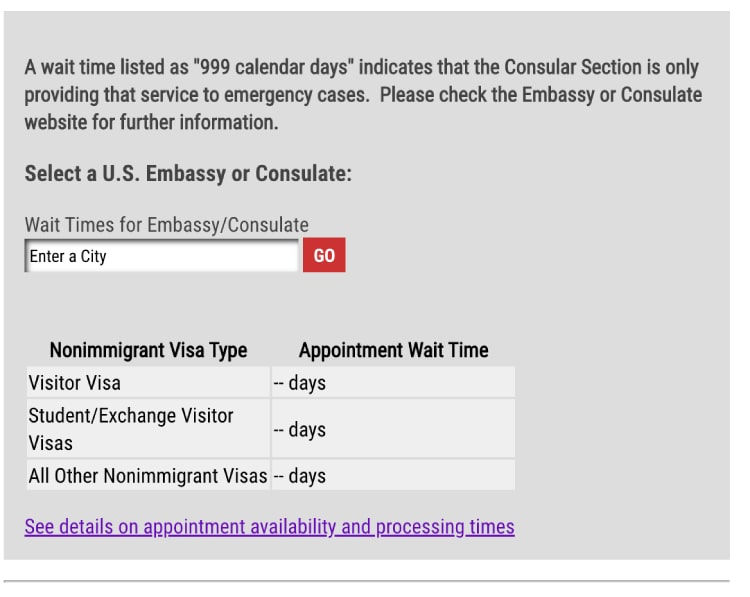 What are the wait times for a nonimmigrant visa interview?
Listed wait times are estimated based on the current caseload and other factors. Wait times to receive an interview appointment can change weekly and are based on actual incoming workload and staffing. Wait times are estimates only and do not guarantee the availability of an appointment.
How do I expedite my nonimmigrant visa interview appointment?
Consular sections overseas may be able to expedite your interview date if there is an urgent, unforeseen situation such as a funeral, medical emergency, or school start date. The process to request an expedited nonimmigrant visa interview varies by location. You should refer to the instructions on the website of the Embassy or Consulate where you will interview, or on their online appointment scheduling site. Before you submit a request for an expedited appointment you must first submit the online visa application DS-160, pay the required fees, and schedule the next available appointment. You cannot make an expedite request without first having a scheduled appointment to expedite. You can find the US Embassy or Consulate handling your case for specific instructions here.
How do I check nonimmigrant visa appointment wait times?
You can check the nonimmigrant visa wait times for visitor visas, student/exchange visitor visas, and all other nonimmigrant visas directly with the US Department of State through this link.
Additional Outside Resources
We Can Help!
Don't know where to start? The immigration attorneys at Richards and Jurusik have more than 20 years of experience in US immigration law. If you have questions about your particular situation, contact us for an assessment of your US immigration matters.