We were recently contacted by an experienced professional in the field of multimedia art looking to obtain a green card on their own merits by self-petitioning under the EB-1A Extraordinary Ability category.  They were able to provide extensive proof of their accomplishments in the industry and we were able to successfully argue their merit as a multimedia artist. We discuss the details of this case and the I-140 EB-1A approval here.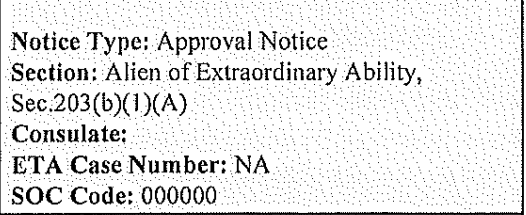 Case details?
A professional in the field of multimedia art contacted us for our opinion on their qualifications as an EB-1A Alien of Extraordinary Ability. They had already spoken with several other immigration lawyers that provided mixed signals and did not exude confidence in the process. After our initial case assessment, they decided to work with us on the process. We were able to work with the client to submit an initial filing with USCIS supported by the client's qualifications in their field. USCIS replied with an extensive request for evidence (RFE). In the RFE USCIS did not grant any criteria for the EB-1A classification. Upon review of the RFE and in further consultation with our client, we were able to re-argue their merits and the case was approved within days of the RFE response.
Our client has since adjusted status with their spouse and they are now US permanent residents (Green Card holders).
Jeremy Richard and his team are great! Very positive, hardworking, and knowledgeable. He helped my wife and I get our artist green card in less than a year. They are very responsive and get back to you quickly if you have any questions/concerns. The first meeting was free before signing the agreement. He accepted our case when another law firm in New York city confused us with misinformation. The cost is very reasonable in comparison with other immigration services. I am delighted with the result. Artist green card is complex and needs several documents, but Jeremy can help you with how to prepare them.Thanks again to Jeremy and his great team. I believe they are one of the best in NY.
Green Cards through Employment Sponsorship
Additional Outside Resources
We Can Help!
The immigration lawyers at Richards and Jurusik Immigration Law have more than 20 years of experience helping people live and work in the United States. Contact us today for an assessment of your legal situation.