One of the required documents when applying for a TN visa is an offer letter. Traditional offer letters are not written for visa application purposes and often lack many of the details required for applying for a TN Visa. Often times this means a new letter, what we refer to as a support letter, must be drafted for the TN visa application. In this article, we discuss the difference between an offer letter and a support letter for a TN visa application.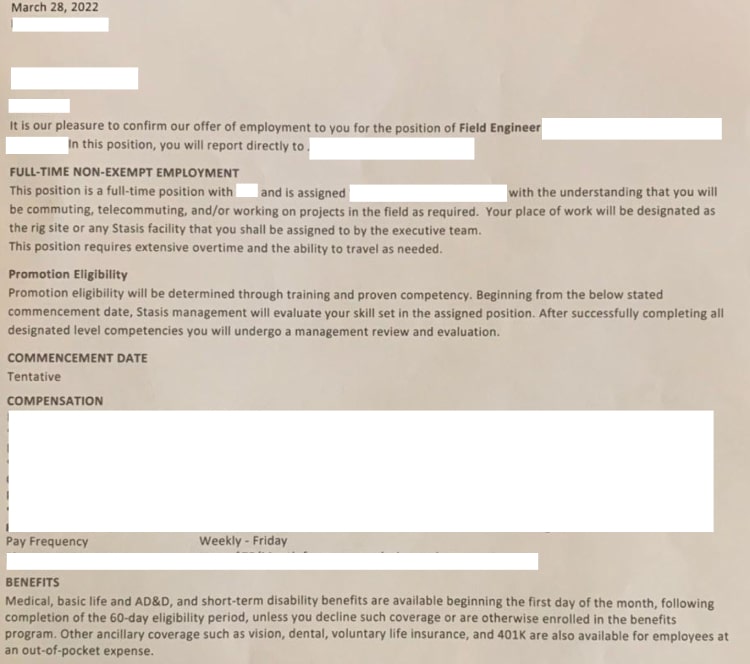 What is an offer letter?
An offer letter is a letter given by a company to a potential employee that provides key terms of the prospective employee's employment. See the above example. An offer letter will typically list the position offered, the wage offered, benefits, and general terms of employment. The offer letter is generally written to the potential employee.
What is a TN visa support letter?
A TN Visa support letter differs from an offer letter as it is written for a different purpose. While an offer letter is written to a potential employee to give them an offer of employment, a TN Visa support letter is written to US Immigration requesting a potential employee be issued a TN Visa for a TN Visa profession. The following are details not typically contained in an offer letter that is in a proper TN Visa support letter:
It is addressed to US Immigration, not the employee
Has a start and end date
Refers to a TN Visa profession
Contains detailed bullet point job duties
Contains the potential employee's qualifications
What if my offer letter is not written properly?
If your offer letter was not written for TN visa purposes, it most likely will not contain the necessary details to obtain a TN visa. If you apply for a TN Visa without a properly written TN Visa support letter, the following could happen:
You could be refused entry or denied a TN Visa
A record will be created of your attempt and will contain the details from the offer letter. This could be problematic if the offer letter was not for a TN visa profession
You could miss your start date and lose your job opportunity
You could ruin your chances of obtaining a TN Visa
Before you apply for TN visa status make sure you have the proper qualifications and supporting documents, including a properly written support letter.
What does my TN Visa offer letter need?
TN Visa Professions & Occupations List
Additional Outside Resources
We Can Help!
The immigration lawyers at Richards and Jurusik Immigration Law have more than 20 years of experience helping people to live and work in the United States. Contact us today for an assessment of your legal situation.