If you are an Australian citizen, you might qualify to work in the United States on an E-3 Visa. The E-3 is a special visa classification only available to Australian citizens. We discuss the E-3 Visa and how to qualify here.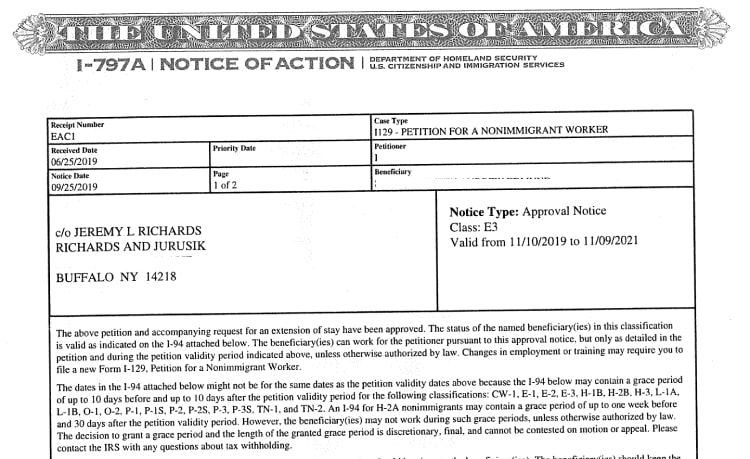 What is the E-3 Visa?
While the rest of the world has the H-1B visa, Australians have the E-3 visa. The E-3 visa classification only applies to citizens of Australia and is reserved for professionals coming to work in the United States in a specialty occupation.
What is a "specialty occupation" for an E-3 Visa?
A specialty occupation refers to a position that requires theoretical and practical application of a body of highly specialized knowledge and the attainment of a bachelor's or higher degree in the specific specialty, or its equivalent, as a minimum for entry into the occupation in the United States. In other words, the position must typically require at least a 4-year degree for an entry-level position.
What documents are required for an E-3 Visa?
The following is a list of the typical documents required for an E-3 Visa petition:
Evidence of your qualifying Citizenship
A job offer letter from a United States-based employer in a specialty occupation
An approved Labor Condition Application, Form ETA 9035E
Evidence that you meet the necessary academic or other qualifications
A certified copy of any required license or other official permission to practice the occupation in the state of intended employment if so required or, where licensure is not necessary to commence employment immediately upon admission, evidence that you will be obtaining the required license within a reasonable time after admission
How do I apply for an E-3 Visa?
First, you must have a job offer from a US employer that qualifies as a specialty occupation. The employer is then able to sponsor you for the E-3 Visa. You can apply for the E-3 Visas in one of two ways:
By mail with USCIS through Form I-129 Petition for Foreign Worker if you are already inside the USA
At a US Embassy or Consulate if you are overseas
What about my spouse and children?
The spouse and unmarried children under 21 years of age are entitled to dependent E-3 classification. Children of E-3 workers may not be employed in the United States but are able to attend school. Your spouse is able to work under their E-3 status and is not required to take any additional steps to work in the United States.
Who needs to get work authorization for a US work visa? Temporary Work Visas
Additional Outside Resources
We Can Help!
The immigration lawyers at Richards and Jurusik Immigration Law have more than 20 years of experience helping people to live and work in the United States. Contact us today for an assessment of your legal situation.