After you have filed an application, petition, or other benefit requests with US Citizenship and Immigration Services, USCIS schedules a biometrics appointment at a local Application Support Center (ASC). During a biometrics appointment, USCIS may take your photo, signature, and index fingerprint for purposes of a background and security check. Find out about the USCIS biometrics appointment and what is required here.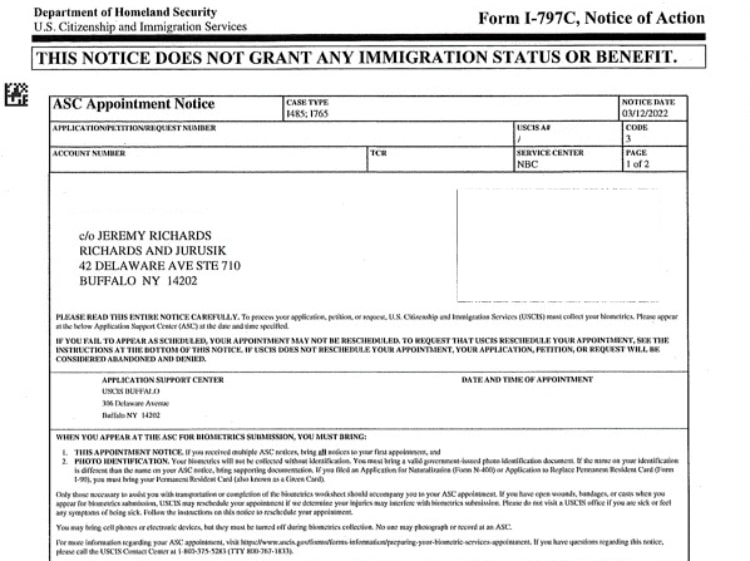 What should I expect during my USCIS biometrics appointment?
Upon arrival at your local USCIS Application Support Center, you will present a valid unexpired government identification along with your I-797 Biometrics Appointment Notice. As you will be entering a secure government facility, you will need to pass through security. After passing through security, you will check-in for your appointment and they will direct you where and how to perform your biometrics. Generally, your name will be called and you will be brought into a separate area to have your biometrics taken.
What does taking my biometrics consist of?
When you appear for your appointment, you will submit your biometrics on machines designed to collect biometrics by rolling your fingers onto a digital screen. You will also provide your digital signature, attesting, under penalty of perjury, that the information in your application, petition, or request (or one submitted on your behalf), and all documents filed in support of your application, petition, or request, were complete, true, and correct at the time of filing. If all of your documentation is in order and your fingerprints were successfully submitted electronically, they will then stamp your biometrics appointment notice, which serves as evidence that you completed your biometrics. Save a copy of the stamped notice for your records.
What if USCIS is not able to take my fingerprints?
If you have open wounds, bandages, or casts when you appear for biometrics submission, USCIS may not be able to properly take your biometrics and may need to reschedule your appointment.
What if I am sick or have symptoms of feeling sick?
If are sick or have any symptoms of being sick you should not attend your biometrics appointment and should reschedule for a later date. Make sure to reschedule before your appointment.
How do I know when and where my USCIS biometrics appointment is?
After your immigration case has been received by USCIS, you will receive a Form I797C Notice of Action that will indicate the date, time, and location of the ASC appointment.
Who needs to attend the USCIS biometrics appointment?
Only the application or beneficiary listed on the Form I-797C Notice of Action needs to attend the biometrics appointment. For example, if you are a US Citizen or US Permanent Resident petitioning your spouse for a green card and they receive a USCIS biometrics notice, only the foreign national spouse needs to attend the biometrics appointment.
What do I bring to my USCIS biometrics appointment?
When you show up for your USCIS biometrics appointment you must bring the Form I-797C Notice of Action and valid, unexpired photo identification, for example
Permanent Resident Card (Green Card)
Passport
or Driver's license
Your appointment notice
The completed applicant Information worksheet that is attached to your appointment notice
What NOT to bring to your USCIS biometrics appointment?
When you show up for your USCIS biometrics appointment be aware that:
You may bring your cellphone but it must be turned off
No photography or video recording is allowed
Do not bring additional family members. Only interpreters, attorneys, or those assisting the disabled and allowed to accompany you
No food, water, alcohol, tobacco, firearms, explosives, knives, etc.
What if I can't make it to my USCIS biometrics appointment?
It is best practice to make necessary arrangements to attend your biometrics when scheduled. This will avoid any potential delays in the processing of your case. If for some reason you are not able to attend, you should immediately call the USCIS Contact Center at 1-800-375-5283 to reschedule. Your request to reschedule must:
Be made before the date and time of the original appointment, and
Establish a good cause for rescheduling.
If I reschedule, when will my new USCIS biometrics appointment be?
You are not able to choose the new date and time for your biometrics appointment. You will be assigned a new random day and time for your biometrics appointment.
What if I fail to appear for my USCIS biometrics appointment?
If you fail to reschedule your biometrics appointment ahead of time, or simply do not appear for your biometrics appointment, USCIS will consider your application or petition to be abandoned and denied. You can avoid abandonment if, by the appointment time, USCIS receives a change of address or rescheduling request that it concludes warrants excusing the failure to appear.
What if I receive a waiver to appear for my USCIS biometrics appointment?
In some cases, USCIS is able to reuse previously captured fingerprints and other biometrics. In this case, you will receive an I-797C, Notice of Action notifying you that it is not necessary for you to appear for a biometrics appointment. If any biometrics fee was submitted it will be refunded.
Family-based ImmigrationEmployment-based Immigration
Additional Outside Resources
We Can Help!
The immigration lawyers at Richards and Jurusik Immigration Law have more than 20 years of experience helping people to live and work in the United States. Contact us today for an assessment of your legal situation.