Once you have submitted all the requirements documents to the National Visa Center (NVC) and your case has been documentarily qualified, you will be scheduled for the next available interview at your US Consulate or Embassy. You are required to appear in person for the interview and must bring the required supporting documents. Read here for what to expect at the immigrant visa interview.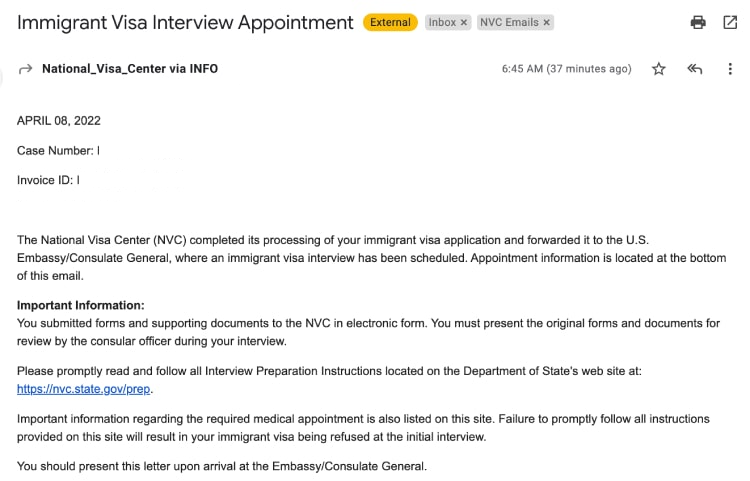 How will I know my immigrant visa interview has been scheduled?
The National Visa Center (NVC) will notify you by email once an immigrant visa interview has been scheduled and your US Embassy or Consulate. The notification will include the date, time, and place of the interview. It will also include important details about the interview and what you should bring with you. The notice will look similar to the one pictured above. It is important to carefully read and follow all instructions prior to attending your immigrant visa interview.
Step 1: Schedule a Medical Exam?
Do not schedule a medical exam until the NVC has notified you of your interview and instructed you to do so. Bring your appointment notice with you to your medical exam. You (and each family member or "derivative applicant" applying for a visa with you) are required to schedule a medical appointment with an authorized physician in the country where you will be interviewed. This exam can only be performed by an embassy-approved doctor (Panel Physician). No other medical exams are acceptable. You must complete your medical examination, along with any required vaccinations, before your scheduled visa interview date.  The Panel Physician will either send the exam results directly to the embassy or give you a sealed envelope. Do not open it.  Bring it to your visa interview and give it to the consular officer.
Step 2: Follow your Country Specific Pre-Interview Instructions
Civil and personal documents may differ from country to country, depending on availability. There may be additional instructions for obtaining civil documents or additional documents you need to submit. These will be submitted to the NVC in Step 9. Select the U.S. Embassy or Consulate where you will apply for a visa to learn what additional requirements there are if any.
Step 3: Assemble all required supporting documents for the Interview
All applicants for an immigration visa, children included, must bring required supporting documents to their interview, this includes:
Passport photos
Original or certified copies of ALL civil documents submitted to NVC
If a sponsor filed an I-864 (Affidavit of Support) AND provided the NVC with proof of an IRS Federal Income Tax Extension in lieu of a Federal Income Tax Return, you must upload it and bring the sponsor's most recent Federal Income Tax Return to the visa interview.
What happens if I don't bring the required supporting documents?
If you do not bring the required supporting documents, they will not be able to complete the processing of your immigrant visa. This can cause delays in your case and even denials. You will be provided a list of the required documents and details to submit them and may have to come for additional interviews. This can cause delays in your case and even denials.
Who can attend the immigrant visa interview?
Only those listed on the appointment notice and who are intending to immigrate with you can attend the interview. If you are being sponsored by your US Citizen Spouse, they will not likely attend the interview with you.
Green Cards through Employment SponsorshipGreen Cards for SpousesGreen Cards for Family MembersHow do I check National Visa Center (NVC) processing times?
Additional Outside Resources
We Can Help!
The immigration lawyers at Richards and Jurusik Immigration Law have more than 20 years of experience helping people to live and work in the United States. Contact us today for a free assessment of your legal situation.