The L-1A Visa is one of the best ways to convert from a non-immigrant to an immigrant. We have helped many business owners expand their operations into the US under the L-1A visa and then obtain US permanent residence (EB-1C Green card). We recently received approval for a green card for the owner of a business that relied on the L-1A visa to expand and grow its operations in the US.  Read more about going from an L-1A visa to a green card through business expansion here.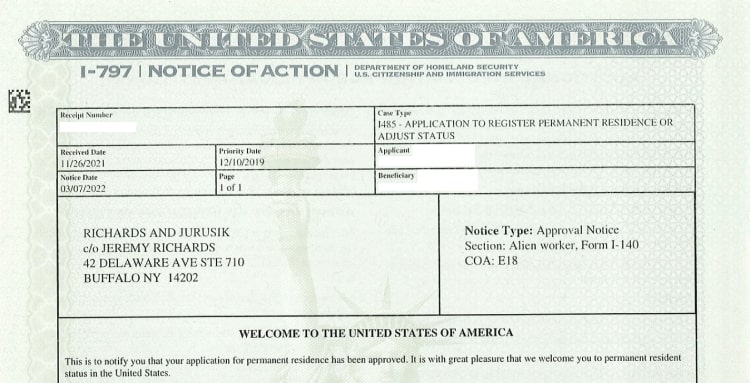 What is the L-1A Visa?
The L-1A visa is reserved for owners, executives, and managers of qualifying companies with both US and foreign operations to transfer key personnel to the US.  This visa also applies to foreign companies opening new offices in the US allowing them to send key personnel to the US to manage the growth and expansion of the new operations. If done properly, the L-1A visa is a great path to US permanent residency for business owners as well as executives and managers.
What is the EB-1C employment-based immigration category?
EB-1C refers to the immigration category reserved for owners, executives, and managers of multinational companies. The EB-1C category provides a direct path to US permanent residence for qualifying individuals and their dependents. A few of the major advantages of the EB-1C category is that there is no recruitment requirement and as a first preference under the visa bulletin, there is often little to no wait time to receive an immigrant visa number.
How do I go from an L-1A visa to a green card?
If you are on an L-1A visa you can go directly to a green card by filing USCIS Form I-140 Petition for Foreign Worker along with USCIS Form I485 Adjustment of Status. This can be done concurrently as long as the visa bulletin is current.
Can I travel while my EB-1C adjustment of status application is pending?
One of the main advantages of the L-1A visa is that you are able to travel during the adjustment process without any impact on your status. This can be done as long as you maintain your L-1A visa throughout the adjustment of the status process. For the case in point, the applicant lived in and commuted from Canada throughout the entire adjustment process.
How long does it take to go from an L-1A visa to a green card?
The length of time it takes to get a green card while on an L-1A visa depends on processing times. In general, this process can take anywhere from 6 months to 24 months. This case in particular took just 4 months to process.
Green Cards through Employment Sponsorship Visa Bulletin Explained: What are "Priority Dates", "Final Action Dates", and "Dates for Filing Applications"?
Additional Outside Resources
We Can Help!
The immigration lawyers at Richards and Jurusik Immigration Law have more than 20 years of experience helping people live and work in the United States. Contact us today for an assessment of your legal situation.