USCIS has begun notifying those that were selected in the FY2023 H-1B lottery. Selection in the H-1B lottery is just the first step in the process. We discuss what to do after you are selected in the H-1B lottery here.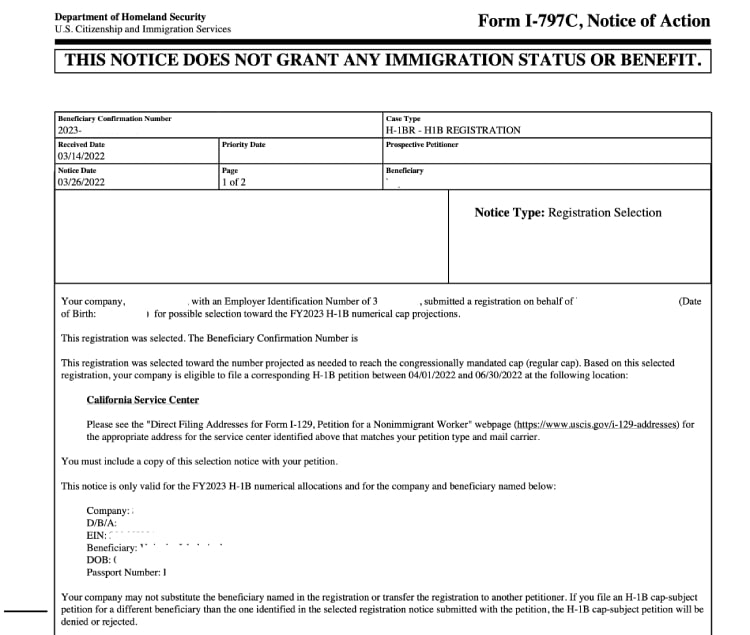 When will I know if I was selected for the H-1B Lottery?
USCIS has already begun selection and notification for the H-1B lottery. The lottery process will be completed on March 31st. At the completion of the lottery, you will be notified if you were selected or not selected in the H-1B lottery. Notification is done through USCIS Form I-797A, Notice of Action as pictured above.
What do I do if I was selected for the H-1B visa lottery?
If you were lucky enough to be selected in the H-1B lottery, your employer must then file USCIS Form I-129 Petition for Foreign Worker on your behalf. This must be done in the timeframe listed on Form I-797C, Notice of Action for your lottery selection. Those notified on or before March 31st will have from April 1, 2022, until June 30, 2022, to submit a petition for an H-1B visa. USCIS will deny or reject any-1B petitions not properly filed within the filing period.
Can the H-1B visa lottery selection be transferred to another employer or employee?
Your company may not substitute the employee named in the registration or transfer the registration to another employer. If you file an H-1B visa petition for a different employee other than the one listed on the I-797C Notice of Action, the H-1B petition will be denied or rejected.
What if I was not selected in the H-1B visa lottery?
If you were not selected in the H-1B lottery by March 31st, there is still hope. USCIS will run up to two more lottery selections depending on how many petitions are filed based on the first lottery run. Any leftover H-1B numbers will be thrown back into the lottery and those not initially selected will have an additional opportunity to get into the lottery.
H-1B Visas for Specialty OccupationsWhat are some alternatives to the H-1B Visa ?How do I check PWD, LCA, and ETA 9089 processing times?
Additional Outside Resources
We Can Help!
The immigration lawyers at Richards and Jurusik Immigration Law have more than 20 years of experience helping people to live and work in the United States. Contact us today for an assessment of your legal situation.