If you were educated outside of the United States, it is possible that you will require a foreign academic evaluation to show the US equivalent of your education. When applying for a US work visa or employment-based green card a foreign academic evaluation is the only way you can prove your education meets the minimum requirements.  We discuss when a foreign academic evaluation is required and how to obtain one here.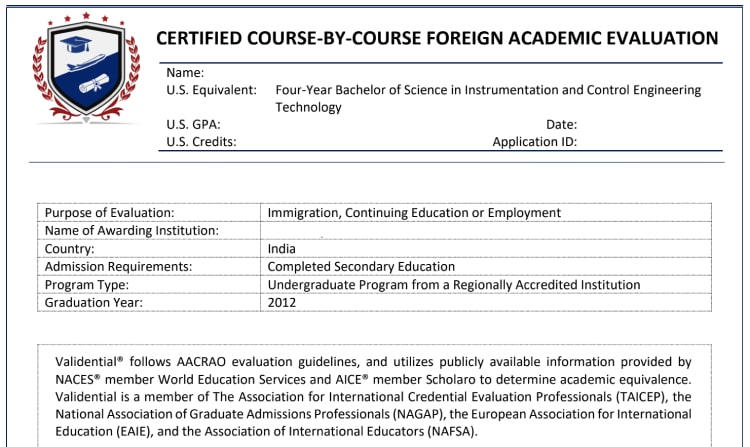 When is a foreign academic evaluation required?
If you will be applying for any US work visa or employment-based green card both USCIS and CBP require a credentials evaluation. In order to make a proper assessment of your qualifications, all foreign credentials or degrees must be accompanied by a foreign academic evaluation.
How do I obtain a foreign academic evaluation?
There are many companies that are qualified to perform foreign academic evaluations. Reviewing officers can consider any credentials evaluation performed by an independent credentials evaluator who has provided a credible, logical, and well-documented case for such an equivalency determination that is based solely on the noncitizen's foreign degree(s). In limited cases, the evaluation can be a combination of education and experience or experience alone. Here is a link where you can find several companies that provide foreign academic evaluations: NACES: National Association of Credential Evaluation Services
What weight does a foreign academic evaluation hold?
Although required, any educational equivalency evaluation performed by a credentials evaluator or school official is solely advisory in nature; the final determination will be at the discretion of the reviewing officer. 
Can I get an H-1B Visa without a degree?TN Visa RequirementsTemporary Work Visas Green Cards through Employment Sponsorship
Additional Outside Resources
We Can Help!
The immigration lawyers at Richards and Jurusik Immigration Law have more than 20 years of experience helping people to live and work in the United States. Contact us today for an assessment of your legal situation.