Decoding the USCIS I-797A Notice of Action
The USCIS Form I-797A Notice of Action serves as an official document, communicating the approval of a case by the United States Citizenship and Immigration Services (USCIS). This form is commonly associated with the extension or change of status petitions, such as those for work visas including H-1B visa, TN visa, or L1 visa. Additionally, the I-797A Notice of Action is issued for approving a change of visa status, for example, transitioning from a TN visa to an H1B visa.
Understanding the Distribution of the I-797A Notice of Action
According to the USCIS guidelines, the upper portion of the Notice of Action is to be retained by the petitioner, i.e., the employer. Conversely, the lower portion, including the I-94 portion, should be given to the beneficiary or employee. The beneficiary is advised to submit the I-94 portion to the U.S. Customs and Border Protection while leaving the United States.
Moreover, the left part of the document can be utilized when applying for a new visa or upon reentry at a port of entry or pre-flight inspection station if a visa is not required.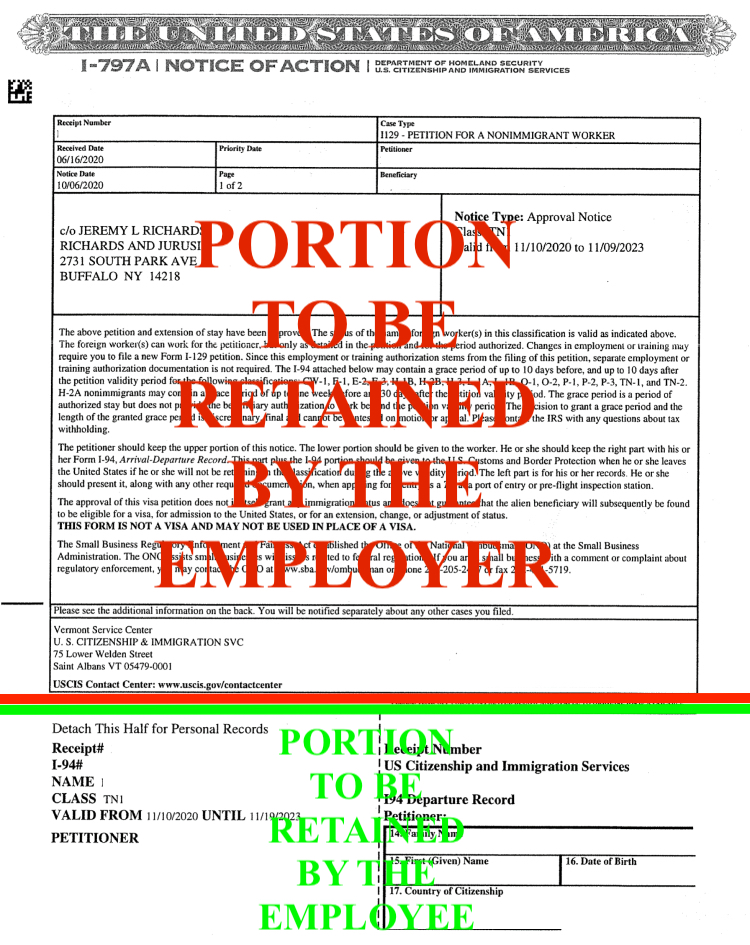 The Significance of USCIS Form I-797B Notice of Action
The USCIS Form I-797B Notice of Action, like the I-797A, signifies the approval of a case by the USCIS. This particular Notice of Action is issued for an employee intending to process their visa at a US Embassy, Consulate, or US Port of Entry.
Once again, the employer retains the top portion of the approval notice, along with a copy of the entire approval notice. The original bottom portion is then provided to the employee. It's worth noting that the I-797 approval type and the employee's country of citizenship will influence the processing of your H-1B visa.

Navigating Special Cases in Visa Processing
Certain countries, such as Canada, enjoy special privileges that eliminate the need for visa stamping at a US Consulate or Embassy. If you require any assistance with processing an H-1B visa following USCIS approval, our team is equipped to guide you.
Schedule a Consultation with an Immigration Lawyer
Additional Outside Resources
You may have questions regarding a U.S. immigration matter. We invite you to reach out to our team at Richards and Jurusik for detailed guidance and assistance. Our goal is to provide you with the most accurate and up-to-date information to make your immigration process smoother and less stressful. The immigration lawyers at Richards and Jurusik have decades of experience helping people to work and live in the United States. Read some of our hundreds of 5-star client reviews! Contact us today for an assessment of your legal situation.