Under the USMCA (NAFTA) both Canadian and Mexican professionals are able to obtain TN visa status to work in the US under certain qualifying professions. TN-1 status for Canadians and TN-2 status for Mexicans. Although the qualifications for both Canadians and Mexicans are the same, the options for obtaining TN visa status vary. Find out if you need a DS-160 for your TN visa application.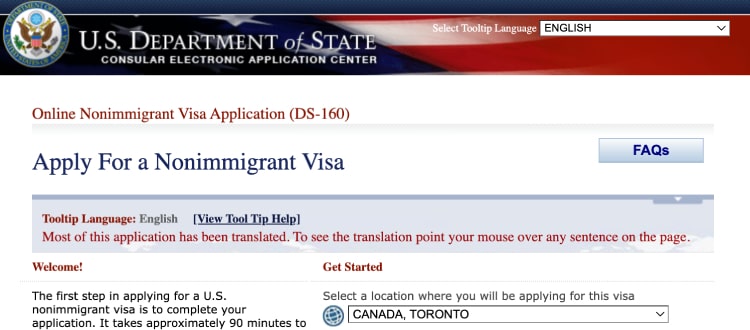 When is a DS-160 required for a TN visa?
Mexican citizens applying for a new TN visa while outside the United States must apply through their local US Embassy or Consulate. The application process requires an interview. For the interview to be scheduled you must first complete a DS-160 and bring it with you to your interview. Your spouse and/or children will also require a DS-160 to obtain TD dependant status.
How do I get TN visa status as a Mexican citizen?
Canadian citizens are not required to apply for a TN visa at a US Embassy or Consulate. Canadians can apply directly through US Customs and Border Protection upon entry to the United States. Since the DS-160 is only required when applying at a US Embassy or Consulate, Canadians do not need form DS-160 to obtain TN visa status. As long as your spouse and/or children are Canadian citizens they are also able to obtain TD status directly at a port of entry.
What is required for a Canadian TN Visa Border Application?
What if I am Canadian but my Spouse and/or Children aren't?
Non-Canadian spouses and/or children cannot obtain TD status at a port of entry, they must complete a DS-160 and obtain a TD visa directly at a US Embassy or Consulate before entering the United States.
Additional Outside Resources
We Can Help!
The immigration lawyers at Richards and Jurusik Immigration Law have more than 20 years of experience helping people to live and work in the United States. Contact us today for an assessment of your legal situation.